ESF Sustainable Development Specialist Project
Recycling Lives Ltd. has won the ESF Sustainable Development Specialist Project Leader Award 2011 in recognition of the contribution it is making to promoting environmental skills, including new green skills and green skills for existing jobs.
As one of the main sub contractors for the NOMS CFO ESF Project, Achieve North West, Recycling Lives has been contracted to take a number of referrals from the Achieve Case Managers in Lancashire. These referrals will have been assessed by their case manager as Achieve participants who are the most motivated; who have demonstrated a commitment to entering employment and who would benefit from the experiences on offer at the leading Queen's Award-winning recycler and waste management solutions provider.
A structured 'back to work' programme has been developed for those Achieve participants starting work with Recycling Lives, with mentoring and additional support offered throughout. As an environmental organisation, the focus of all placements and training is within the low carbon, environmental goods and services sector.
Recycling Lives operates a Social Enterprise model, including 'Bulky Waste' and 'Furniture Donation Network'. After completing the 'Preparation for Employment' training, Achieve participants begin working in the 'Bulky Waste' department. This is a contract Recycling Lives holds with Preston City Council which involves recycling materials which can be taken from any bulk waste (televisions and sofas for example) in the Preston area.
Achieve participants receive operational training and undertake placements within areas such as the WEEE (Waste Electrical and Electronic Equipment) recycling department, CRT dismantling, metal sorting and within the materials recycling facility. At the end of the placement period, the Achieve participant is either offered a job with Recycling Lives, or is supported in securing employment through the networks the organisation has with other companies.
Recycling Lives is working to take advantage of the growing recycling sector and enhance the opportunities available to participants to develop new environmental skills.
Watch Robert's interview and other Leader Award 2011 winners.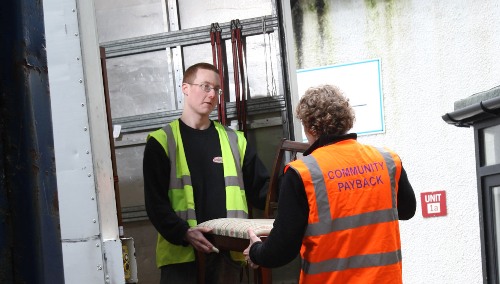 ESF Gender Equality Leader Award
The ARC Women's Wisdom project in Southampton recently won the ESF Leader Awards Gender Equality Award. This successful Hampshire based social enterprise project, which was initially funded by NOMS Co-financing Organisation and the European Social Fund, provides an innovative and creative solution to the supervision of female offenders and addresses the challenge of reducing female re-offending alongside delivering skills and emplyoment support that enables women to progress into sustained job outcomes.
ARC is a model of community payback specifically designed for female offenders, who are a very vulnerable group and unlikely to thrive in the traditional community service environment which is mixed gender and concentrated on physical tasks that do little to address the underlying issues that contribute to why the offending happended in the first place.
Women's Wisdom (WOW) is a distinctive and visionary organisation providing innovative provision that is uniquely female focused. They provide interventions and environments designed to address the distinctive barriers facing women who find themselves distanced from the labour market, enabling them to progress into sustainable employment or self-employment.
Women's Wisdom gives female offenders a chance to gain a work ethic - plus transferable skills like team building and communication - within an admin setting. They become 'virtual' PAs - offering administrative business services to small to medium employers in the area. The project focuses on what the women can do, and what skills can be supported.
Throughout and, in addition to face to face web support, all women have access to 24:7 personal and self-employment advice lines and WOW buddies. These additional support services provide a safety net for participants and are integral to the model - the overall impact is to get more women into work, quicker and sustain them in employment for longer. The outcomes from the project have been tremendous. 60% of participants have moved into work or self employment. Currently, the model is being considered for Halifax and London, and will be implemented in Maidstone.

News
Please select a link below to view.
Alternatively, select a tab at the top of this page to move to another section.